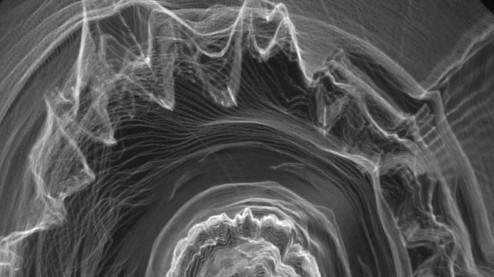 Part of the retrospective programmes that I had at the most recent Rotterdam Film festival (2017) was the premiere of a new piece, #67. This work was commissioned by LIMA in Amsterdam as part of 'Unfold', a project that investigates re-interpretation as a strategy for the preservation and activation of media art works.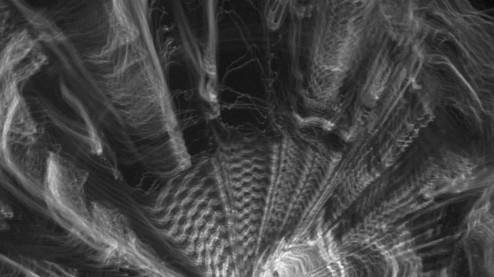 #67 was conceived as a tribute to 'Reminiscence' and 'Telc', two videoworks made by Steina and Woody Vasulka in 1974. In these works, a fragment of unedited video footage was transformed into fascinating, abstract scenery using a Rutt-Etra scan processor. One of the things that remain from the original video footage is the impression of an observer navigating through spaces, and a strong sense of what in perception psychology has been called 're-afference', a term that refers to the perceptual changes we cause when we move our sensory organs. In this reading, these works were important references for my earlier experiments around sensory augmentation and my attempts to make environmental phenomena that can not normally be perceived by humans visible or tangible.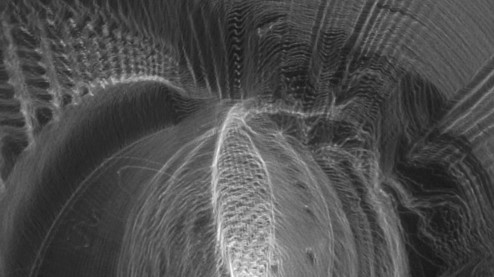 As part of the process of developing #67, and as part of the 'Unfold' project, I gave a workshop around 'Sensory Augmentation and Obstruction'. The starting point of the workshop was the idea to make a portable version of the Rutt-Etra processing as used in 'Reminiscence' and 'Telc'. Together with Luis Rodil-Fernández we built an Android app to do this, with the possibillity to add wearable sensors and map them to real-time image transformations. Pictures of the workshop here.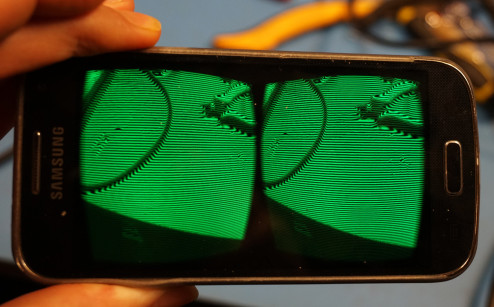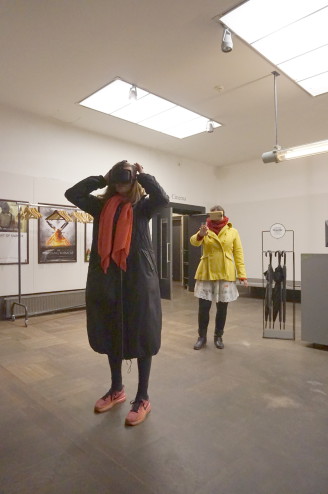 Giving this workshop helped me a lot in finding my approach to #67, but I decided to very different technology: since about two years I have been building my own analog modules as part of a long-term investigation of analog computing. After the workshop I realized I could use these to make a modern analog electronic equivalent of the original Rutt-Etra processor that was used to make both 'Reminiscence' and 'Telc'. This is no coincidence, since Steve Rutt thought of this device as a 'video analogue computer' and conceived it as a modular devices in which many modules closely resemble analog computing modules; it just took some time on my part before that penny dropped..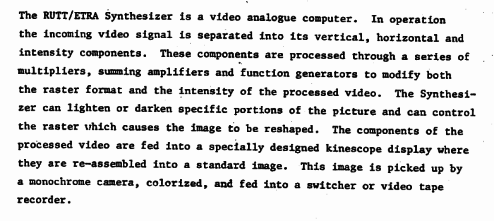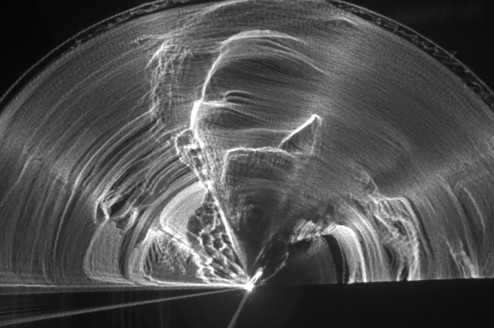 When thinking about the difference between using a Rutt-Etra processor in 1974 and reconstructing one 42 years later, I realized that our relation to the materiality of the medium has changed; Steina and Woody were making these pieces as part of their exploration of the synthetic worlds made possible by signals, and in some sense their works can be seen as precursors of virtual reality. More than 40 years later I am exploring the same devices as part of an investigation into the materiality of signals.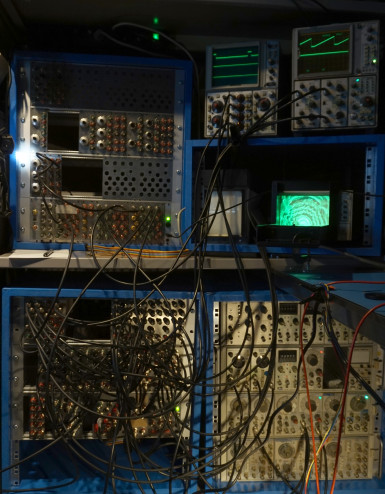 After this realization, and in a continuation of my investigations into sensory augmentation, I also started capturing the electromagnetic fluctuations that are omnipresent in an urban environment. These emanate from power lines, electromotors, fluorescent lights and all sorts of wireless communications, and many of these have frequencies that are multiples of 50 Hz. This is the frequency of the alternating current in our power networks that is for that reason also the frame rate of analog video.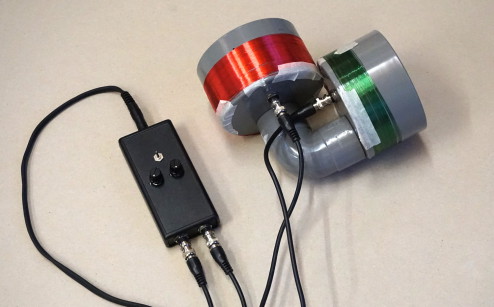 The final video is 17 minutes and is based on the unedited registration of a walk. The official blurb goes like this:
"In #67, we witness a stroll through the electromagnetic worlds of machines and men, a world with a tonal coherence that humans rarely perceive. The result is similar to operating within an alien mode of perception, at once visceral in quite a human way, while also preserving something of its real world referents in a manner that allows us to connect and participate in the image."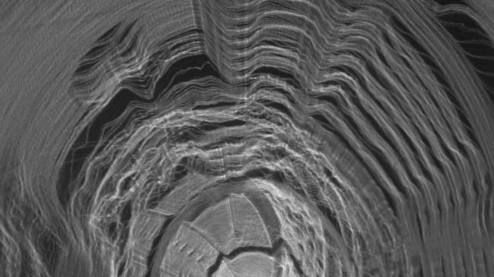 The premiere of this video was on the 28th of January 2017 at the International Film Festival Rotterdam, as part of my 'Deep Focus' programmes 'Light Matters', in Pathe 2.
It was also screened in the context of the Artists' Filmmaking Symposium of the Alchemy Film Festival in Hawick, Scottish Borders, where I also gave the first presentation of my current research project at KASK in Ghent.