posted on 020071126
technology as ape
books . umwelt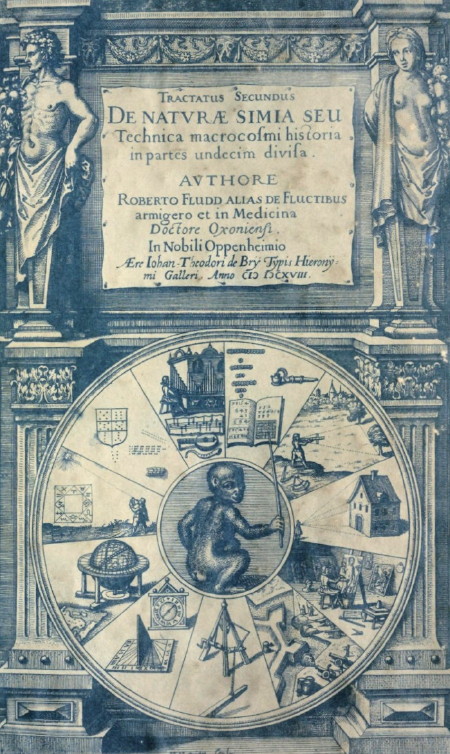 For various reasons I've never been a big fan of Robert Fludd (nor of his slightly younger collegue Athanasius Kircher for that matter). Bluntly said I've always seen them as expert makers of great compilations, but they are mentioned so often in all kinds of hermetic and alchemistic contexts, that I have always been put off to actually look at their books. Kircher's interest in hieroglyphics, cryptographics and other symbol systems is very interesting, and in the case of Robert Fludd I thought it was mostly his cosmogony and his writing about the theatre of memory which were most of interest.
As part of as ever escalating research I had a quick look at the online version of his "Utriusque Cosmi Maiores Scilicet et Minoris Metaphysica, Physica atque Technica Historia" from 1617, and its imagery blew me away: true, a lot of it comes from other sources, but he was certainly an amazing compiler, and also the way this book is a synthesis of pretty much all knowledge available in his time is unbelievable.
The above image I thought was especially striking in light of recent thoughts about artificial life and bionics; it is the frontispiece of book 2, "De Naturae Simia, seu Technica Macrocosmi Historia" (which I think translates as "On the Ape of Nature, or the History of Technology of the Macrocosm"). It shows the ape of technology within the eleven parts of applied mathematics: arithmetic, geometry, optics, painting, military engineering, civil engineering, time keeping, map making, astrology, geomancy and music. And the ape points to arithmetic as the root of the other disciplines.