(workshop at e|m|a fructidor, Chalon-Sur-Saone, France, 2016)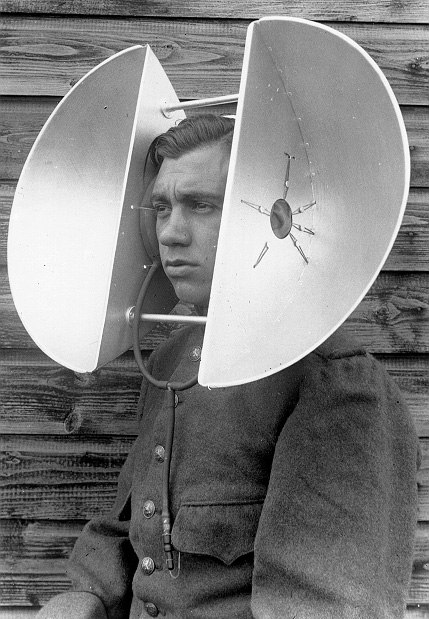 There is a long history of thinking about technology and media as extensions
of the body. According to this idea, the hammer is an extension of our hand,
the car an extension of our feet and the telescope an extension of our eyes.
In this workshop we will focus on our senses and investigate the artistic
potential of augmenting them.
We will talk about different schools of thought about human perception and
fantasize about how it would be to have animal senses. We will talk about
research that has been done into developing artificial eyes for blind people
and will think about cyborgs. We will discuss artists who are interested in
revealing things we can not normally perceive and we will wonder if it is
even possible to understand things we have never perceived before.
In the workshop we will develop small, wearable devices with the aim to
change how we perceive. These devices can be optical, acoustical,
mechanical, electronic, digital, conceptual, magical or other. For those
interested in electronics, there will be the opportunity to build a simple
haptic interface and investigate how this can be used in combination with an
arduino and a sensor in order to become a wearable extra sense.
Atelier de Augmentation Sensorielle
La technologie et les médias ont été de longue date parfois considérés
comme une extension du corps. Selon cette idée, le marteau serait une
extension de notre main, la voiture une extension de nos pieds ou le
télescope de nos yeux. Dans cet atelier, nous allons nous concentrer
sur nos sens et étudier le potentiel artistique qu'il y a à les
augmenter.
Nous discuterons de différentes écoles de pensée relatives à la
perception humaine et nous imaginerons les sensations que nous aurions
si nous avions les organes sensoriels que possèdent certains animaux.
Nous parlerons des recherches qui ont été menées dans le développement
de la vision artificielle pour les personnes aveugles et évoquerons
également les cyborgs. Nous examinerons les travaux d'artistes qui se
sont intéressés à révéler des choses que nous ne sommes pas en
principe capables de percevoir, et nous nous interrogerons sur la
possibilité de comprendre des choses que nous n'aurions jamais perçues
auparavant.
Au cours de l'atelier, nous fabriquerons de petits appareils
transportables qui modifient nos perceptions. Ces dispositifs peuvent
être optiques, acoustiques, mécaniques, électroniques, numériques,
conceptuels, magiques ou autre. Pour ceux qui sont intéressés par
l'électronique, il sera possible de construire des interfaces tactiles
simples (avec une arduino et un capteur, par exemple).