– introduction: the metaphor of the blind man with walking sticks (Descartes)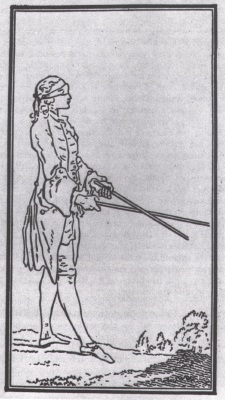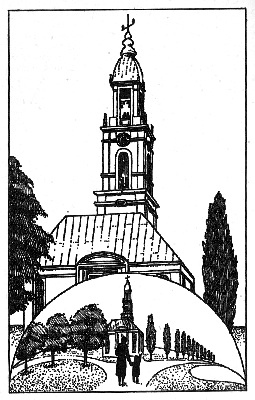 blind man from "La Dioptrique" by René Descartes (1637), and an impression of the limit of our visual world by Jacob von Uexküll (1934).
– visual perception as an activity guided by concepts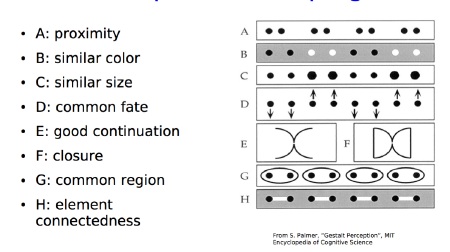 grouping principles from Gestalt Psychology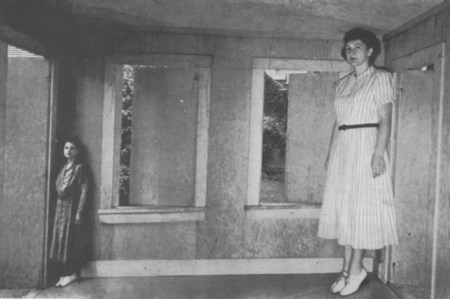 the Ames illusion (1946)
– vision as an adaptive system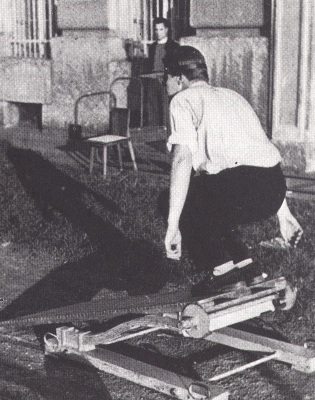 experiments with inverting goggles by Erismann (1930)
– sensory substitution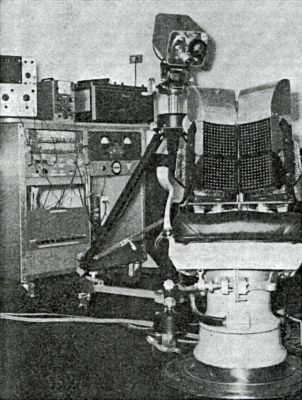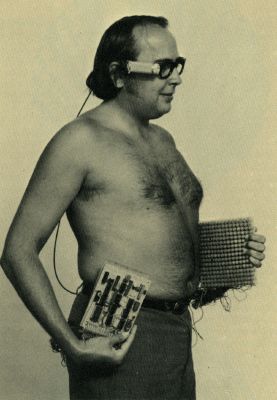 visual perception via tactile projection by Bach-y-Rita (1969)
– the emergence of the subjective image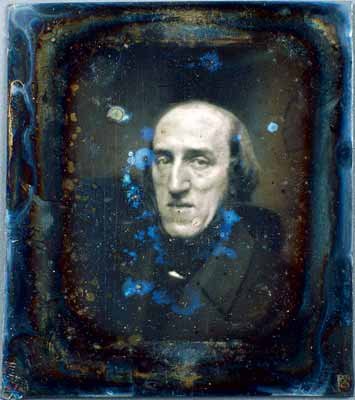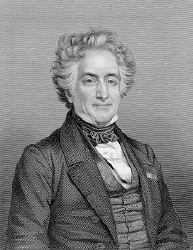 portraits of Joseph Plateau and Michel Eugène Chevreul (ca. 1830)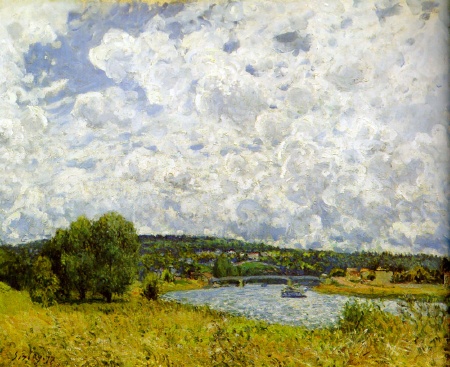 impressionist painting by Alfred Sisley: "La Seine à Suresnes" (1877)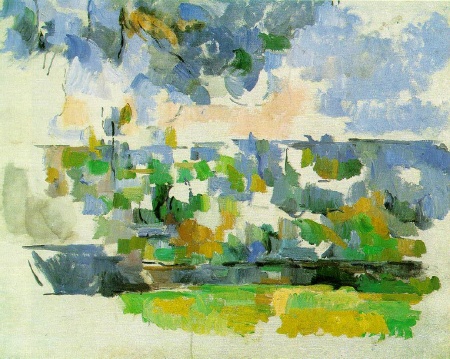 Paul Cézanne, "Le Jardin aux Lauves" (1906)
– thought forms and optical mindstates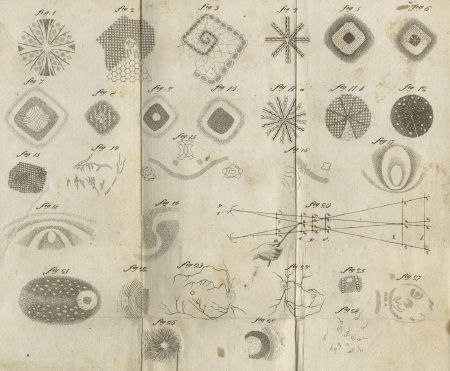 entoptic images as seen by Jan Evangelista Purkyne (ca. 1820)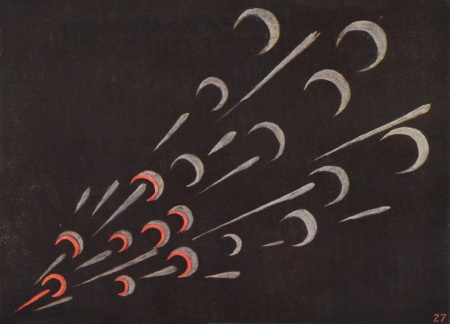 thoughtform 27: "Sudden Fright", by Charles Leadbeater and Annie Besant (1902)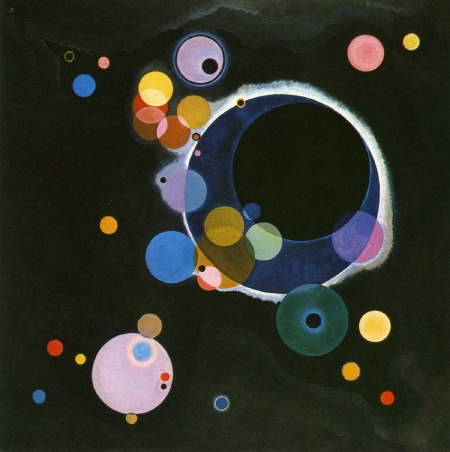 Wassily Kandinsky, "Some Circles" (1926)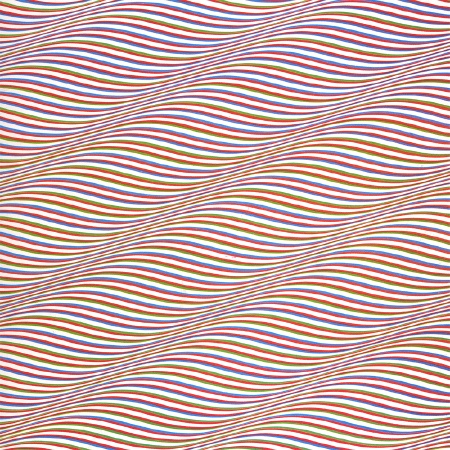 Bridget Riley, "Cataract II" (1967)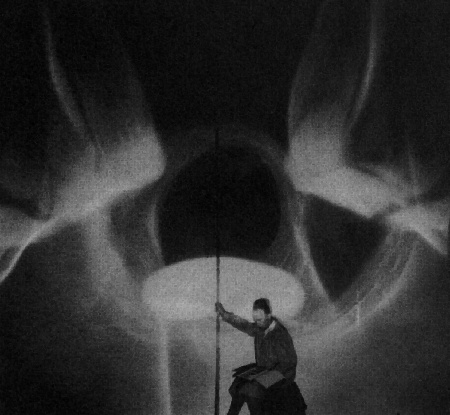 Thomas Wilfred composing lumia projections in 1923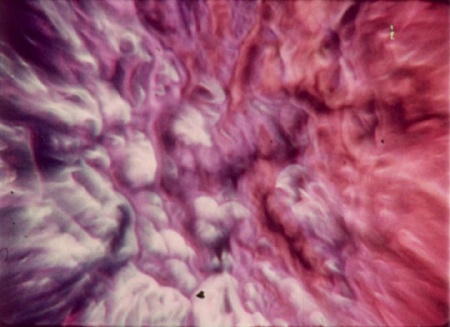 still from Jordan Belsons "Samadhi" (1967)
– Stan Brakhage and 'The Untutored Eye'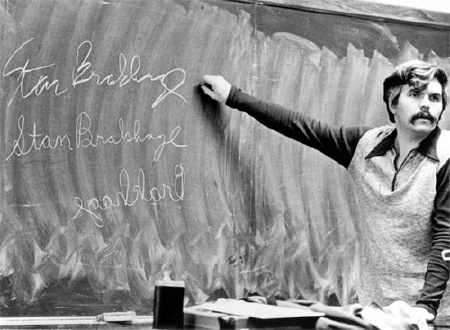 further reading:
R.L.Gregory, "Eye and Brain" Princeton University Press, 5th ed., 1997.
Nicholas J. Wade, "Perception and Illusion, Historical Perspectives", Springer, New York, 2005.
P.C.Vitz, A.B.Glimcher, "Modern Art and Modern Science, The Parallel Analysis of Vision", Praeger, New York, 1984.
William C. Wees, "Light Moving in Time, Studies in the Visual Aesthetics of Avant-Garde Film", University of California Press, 1992.
even further reading:
R.Held, W.Richards (eds), "Perception: Mechanisms and Models (Readings from Scientific American)", Freeman, San Francisco, 1971.
Annie Besant, C.W.Leadbeater, "Thought Forms", Theosophical Publishing House, Adyar, 1901.
Stan Brakhage, "Metaphors on Vision", Film Culture, New York, 1963.
71 Optical Illusions & Visual Phenomena, site by Michael Bach
short survey of sensory substitution history on my own site