posted on 020081114
november 15
events . films . installations . live . work
on november 15 there will be three more or less simultaneous events: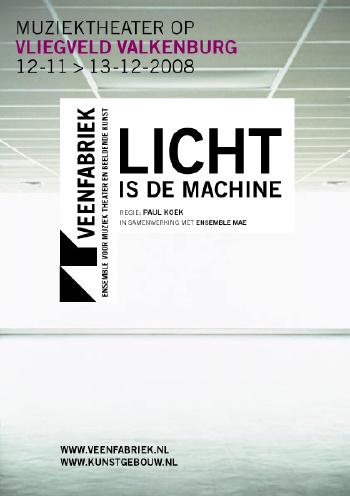 – the premiere of 'Licht is de Machine', at the Valkenburg former military air base, near Leiden. 'Licht is de Machine' is a music theatre production by the Veenfabriek, for which I provided a utopic starting point (a long time ago), and for which I made a light installation that resembles robotic architecture. More about this piece and my installation in a later post; it will be performed until december 13.
– a performance of 'In Visione' by Emio Greco | PC in Rouen, France. For the previous performances of this piece I did live video, but this time it will be a canned version of the last performance we did at the Holland Festival last year.
– a screening of my film "23.2, Book of Mirrors" with a live performance of the soundtrack Rozalie Hirs composed for it. The concert will be on the 15th in the Roy and Edna Disney/ Calarts Theatre in Los Angeles. It is marked as a U.S. premiere because it will be the first time the music is performed live in the U.S., not because it is the first U.S. screening !